The ESP Mobile menu is accessible to Android users via the physical menu button (to the left of the home button on your device) and to iPad/iPhone users via the "e" button at the bottom of the screen.
Five options are displayed:
Home: Return to the ESP Mobile HD homepage.
Top Sellers: Access various categories of products.
News: Displays articles from our award winning publication, Counselor® Magazine.
My ESP: Access your Recent Searches, Mobile Preferences, Settings, FAQs, Submit feedback, Contact Information and Account Settings.
Clipboard: Holds products for later use. Items added to the Clipboard on ESP Mobile will be available on ESP Web and vice versa.
My ESP
The My ESP section provides access to:
Recent Searches: Access your most recent searches.
Mobile Preferences: There are two options in this area, Client Safe and Virtual Sample.

Use the client safe checkboxes when you want to hide Net Cost and Supplier Information when searching.

Example: For use during a client meeting, or if you intend to send a product detail page to your customer, you may want to turn this information off.

The Virtual Sample section enables you to set a default for all virtual sample-enabled images. You can use the supplier's original product image, select an image from your device's photo album or the ESP Media Manager or create a text logo. If you upload your own image, you can use the checkbox to Remove Background Color. When you are finished, click on the Done button.

Settings: There are two options in this area: Email to Customer Text – Default and Email Signature – Default.

Email to Customer Text – Create a standard subject line and email content when sending product information from ESP Mobile.
Email Signature – Set up an email signature to appear on emails sent from ESP Mobile.

Support: Access the ASI Knowledge Base for quick answers, 24-7!
Submit feedback: Submit enhancement and suggestions as well as report any issues in the system. Click Submit when you are finished.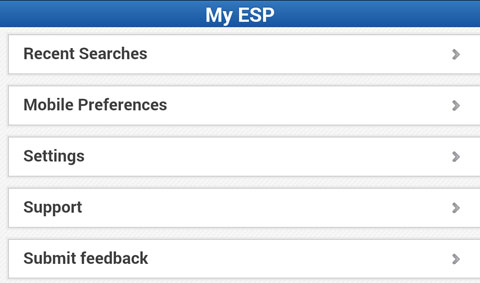 At the bottom of the My ESP section is your contact information and account settings, as well as three buttons:
Contact Support: Email or call ASI Technical Product Support
Reconnect to Notifications: Reconnect your ESP Mobile account to notifications
Log Out: Sign out of ESP Mobile