ESP Web Updates
ESP Websites and Company Store Updates
ESP Orders and CRM Updates
---
Price Grid Column Hide
In the Edit Products section of ESP Presentations, individual quantity columns of price grids can now be shown or hidden using a checkbox.

---
New Advanced Search Options
In the Advanced Search, two new checkboxes have been added in to the Options section:
QCA Certified
Without Prop 65 Compliance
These options will also be available in the Narrow Results section.
---
Visibility Options for Presentations Themes
When uploading a custom theme in ESP Presentations, there is now the option to set the visibility for that theme. This means that if one user within a company uploads a theme, they can choose to share it with:
Everyone (all ESP users within their company)
Only the Record Creator (private; only the user who uploaded the theme will be able to view it)
Teams or Individuals (a group of ESP users or specific users within the company)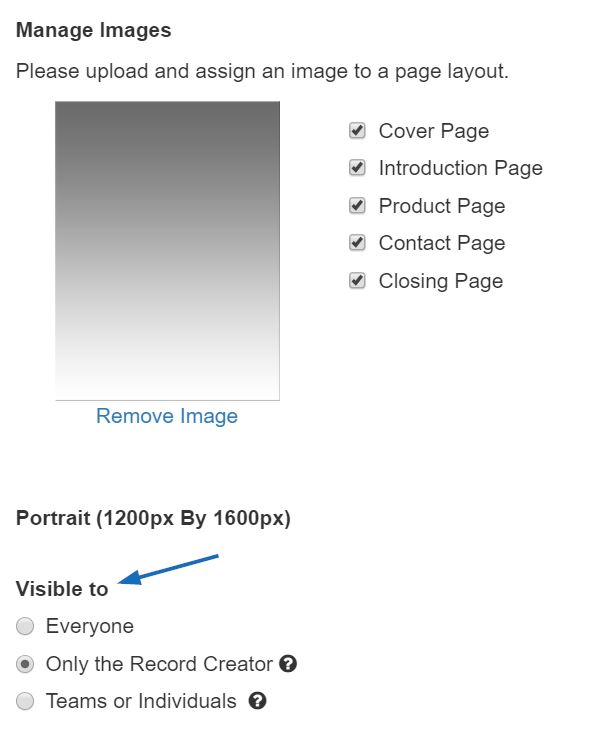 ---
Customer Facing Site Translation
ESP Websites and Company Stores can now be displayed in multiple languages. By going to the Display Options area within the ESP Websites Admin, sites can be enabled to display in Spanish and/or French.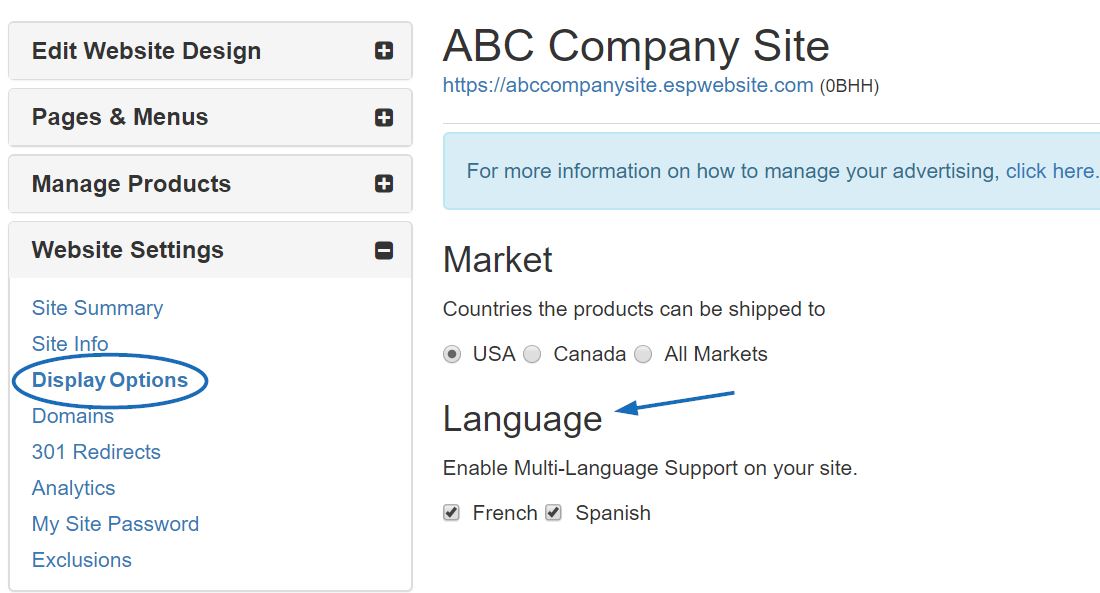 While the default for sites will remain in English, there will be a dropdown containing the selected language(s) for the site. Customers will be able to select the language from the dropdown to translate the entire site, including product information and the checkout process, into their desired language.

---
ADA Compliance
The Americans with Disabilities Act (ADA) Standards for Accessible Design requires standards which state that all electronic and information technology must be accessible to people with disabilities. To this end, images and icons within ESP have been updated with alt text to ensure legal compliance. Individual images, gifs, and other media which are proprietary to the company will remain the responsibility of the company website administrator.
---
Import Line Items from Previous Sales Documents
A new option has been added within the order form which enables line item configurations to be imported from a previously created sales document, such as an order, sample request, quote, or invoice, to the current one. The "Import Line Items" option will open a search box where you are able to locate the order and product(s) you would like to copy. Imported items do not need to be from sales documents created for the same customer.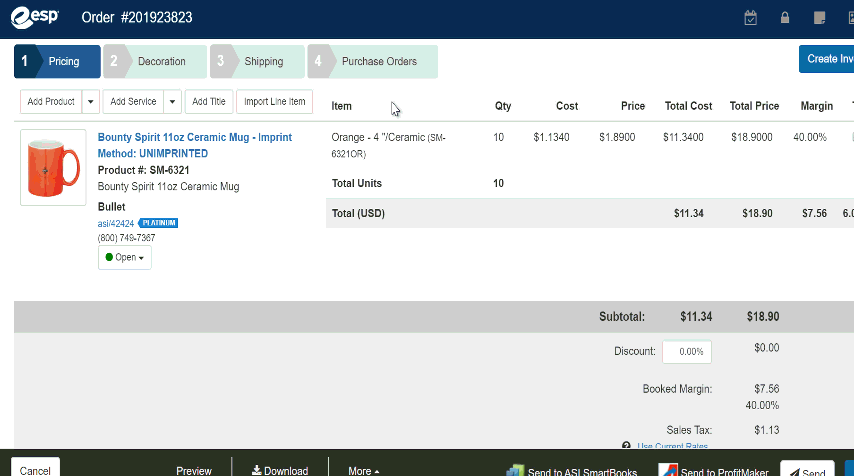 After selecting the product(s), the information will be imported into the Configuration and Design sections of the Edit Product area. Shipping, Instructions, and Sales Tax will not be copied.
---
Live Shipping Updates for eComm Connected Suppliers
Within ESP, live shipping and tracking information will now be available from eComm connected suppliers. ESP Orders users who have their accounts linked with an eComm connect supplier will be able to access the most up to date information regarding the order's shipping information using a new direct linking service with major carriers (USPS, UPS, FedEx, DHL, etc.). This information will be available via the View Shipping link in the Purchase Order History tab.
---
Enhanced Default Task Options
Within ESP, administrators have been able to create and assign default tasks. This time-saving feature has provided administrators with the ability to set predetermined actions for specific duties; for example, creating a task for the salesperson to follow-up on new orders in two days. Now, tasks have been enhanced to include automatic tasks and common tasks. Automatic tasks are those created by the individual company administrator. Common tasks are pre-configured tasks provided by ASI, based on usage data and research. The common tasks can be modified or removed at any time.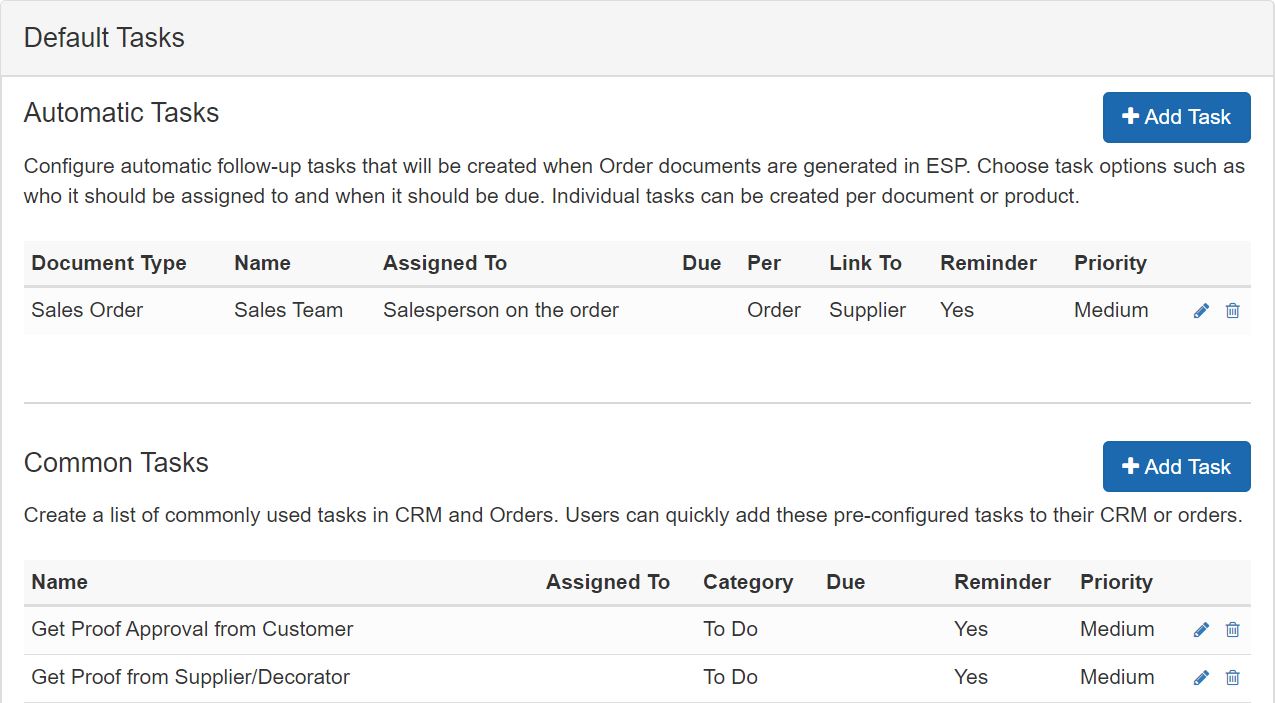 ---