The Visual Search on ESP Mobile enables you to take a picture with your mobile device or use an image from your device's gallery to search for an item!
This on-the-go search capability can be accessed by logging into your ESP Mobile app on your iPhone, iPad or Android device. For more information on downloading the ESP Mobile app or logging in, please click here.
The Visual Search is represented by the camera icon on the ESP Mobile home page. Click on this icon to begin.

Tap the option you would like to use:
If you tap Choose Existing Photo, you will be able to use an image from your device's image gallery or stored images.
If you tap Take New Photo, your device will go to the camera function for you to snap a picture of the item. After you confirm that you want to continue using the new image you took, the Visual Search will begin.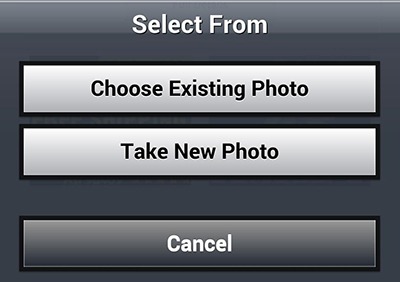 Note: When taking pictures of new images, it is recommended that you use a product without a logo and, as well as try to keep the background as uncluttered as possible.
The Visual Search will process the image and then, potential matches will display!