Relationships are created in ESP CRM when you link a contact or company to another contact or company. Relationships are directional with both a forward and reverse part. You can use the available relationships or create your own to track family ties or professional affiliations.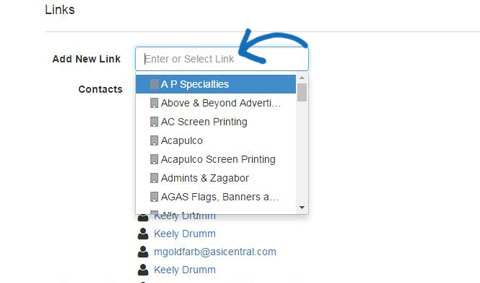 The standard relationships will be displayed with a check in the column of the For Contacts, For Companies or both to indicate the proper usage for that relationship.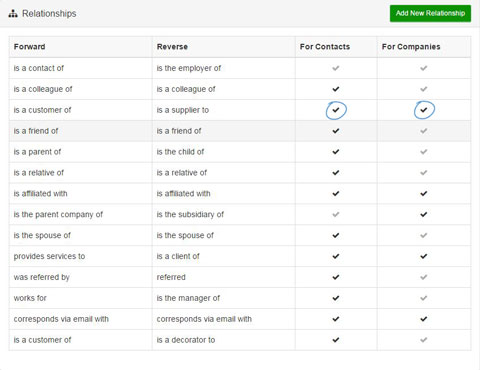 To create a new relationship, click on the Add New Relationship button.

Enter a Forward, which is the first part of the relationship and a title for that relationship. For example, to establish a relationship between two contacts who are father and son, start by entering the forward. Because relationships have a forward and a reverse, you can determine how you would like to enter the relationship, but be sure that the reverse is accurate. This means that if the Forward reads "is the son of" and the forward title is "son", the reverse needs to read "is the Father of" or "is the Mother of" and the reverse title should be "Father" or "Mother" respectively.
After entering the components of the relationship, select whether this relationship applies to a contact, a company or both. Lastly, click on Save Relationship.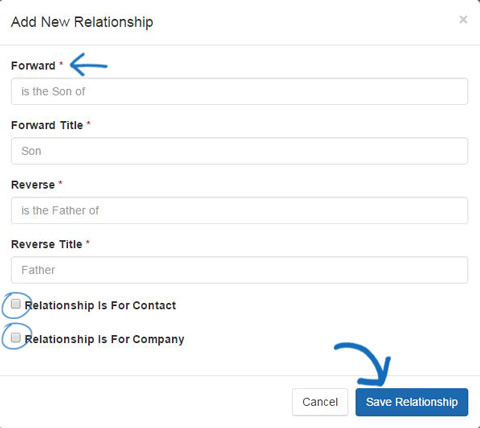 The new relationships will be available to all users within your company.